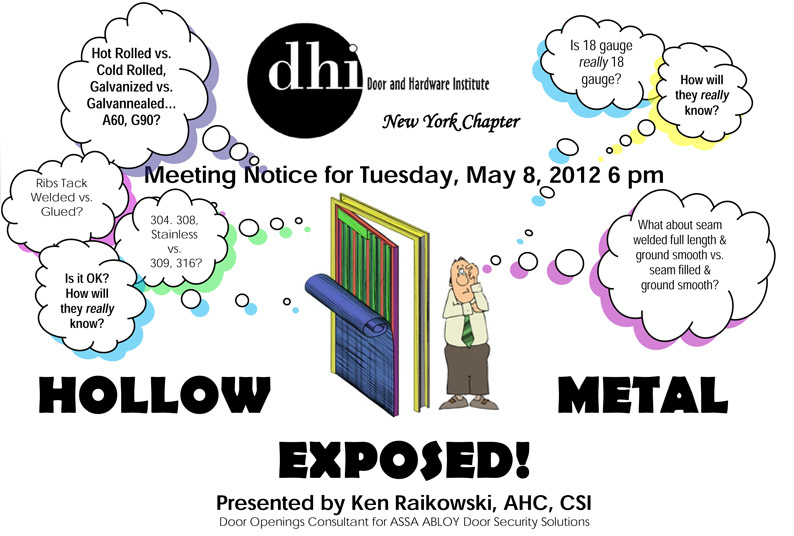 Commercial Doors & Submittals are under greater scrutiny than ever. More & more specifications require the supplier to provide extra doors for submission to be cut in half for inspection & meticulous review. Whether a seasoned industry professional or new to the game, there is something to learn for all.
Sea Shore Restaurant & Marina, 591 City Island Avenue, City Island, NY 10464
For directions

Click Here

.
Cocktail/Social Hour is 6:00 pm with Buffet Style hors d'oeuvres and Cash Bar
Sit-down Dinner 7:00 pm
Menu includes:Appetizer, Salad, + Choice of entrée. All dinners are served with Baked Potato and Sautéed Vegetables, Dessert, Coffee or Tea.
Cost of Dinner is $50.00 for members, $60 for non-members. Make checks payable to: DHI NY Chapter or Credit Card on BPT only.
RSVP NOW & PAY BY CREDIT CARD! Credit Cards accepted in Advance only…


Click here BrownPaperTickets DHI NY May 8 2012 Meeting

or RSVP to Chapter Secretary, Leah Convery-Meyer, CSI, CDT by Wednesday, May 2, 2012
Call 732-337-5859 or e-mail Leah.Convery@sbdinc.com
Members, RSVP is required, in any case…Cash or Checks at the door payable to 'DHI NY Chapter'